Revised Points Expiry Date to 31 Dec
Updated: 20 May 2021
To align ourselves with the Group's Financial Year (January–December), the expiry of membership points will be revised from 30th June to 31st December of every year.
This will take effect from 2021 whereby all unused points earned from 1 July 2020–31 December 2021 will expire on 31 December 2021, last day of redemption being 31 December 2021. Points earned from 1 January 2022–31 December 2022 will expire on 31 December 2022, last day of redemption being 31 December 2022.
Reduced Prices for Regular-Priced Items and Revised Members' Discount with effect from 1 March
Updated: 15 February 2021
As we welcome the New Year, we will streamline our pricing and promotions for a better shopping experience for all.
With effect from 1 March 2021, we will be revising our members' discount on regular-priced products from 15% to 10%. By doing so, we are able to extend our members' discount to include a wider range of styles.
At the same time, you will also see the reduction in prices for our regular-priced items starting from mid-March 2021, with the launch of our Spring 2021 collection.
We are committed to serving you more for everyday and look forward to welcoming you soon at our stores.
Scheduled Maintenance on 28 & 29 Oct 2020
Updated: 27 October 2020
Our website will be undergoing a scheduled maintenance—access to VIP Portal and online sign ups will be unavailable from 4-6pm on 28 Oct 2020 and from 7.30am-12 noon on 29 Oct 2020. To check your point balance or update your particulars, please head in-store for further assistance or email us at vipsupport@bossini.com.sg
Thank you for your patience.
Member's Birthday Reward
Updated: 1 July 2020
With effect from 1 July 2020, members will enjoy 3x points ($1 = 3 points) for all birthday purchases from 1 July 2020 to 30 June 2021 at all bossini stores.
Annual Points Expiry On 30 June
Updated: 11 June 2020
As our shops remain closed through Phase 2, we understand that you are not able to offset your points* for your purchases. These points will expire and not be redeemable beyond our annual expiry date of 30 June, we will extend an additional 5% off for all member purchases from 1 Jul–31 Aug 2020 at these stores: AMK Hub, Bugis Junction, Clementi Mall, Compass One, IMM, Jewel Changi Airport, Jurong Point, Lot One, Lucky Plaza, PLQ Mall, Tampines Mall and United Square.
*Points accumulated between 1 July 2019–30 June 2020.
Cessation of Point Redemption at Selected Stores
Updated: 5 September 2019
We will cease the redemption of VIP points at selected bossini stores (Bedok Mall, Changi City Point, Downtown East*, Hougang Mall and Toa Payoh) with effect from 1 March 2019. However, members can continue to enjoy 15% off regular-priced items at the above-mentioned stores, and also earn points from their purchases which they may redeem at other stores.
*Downtown East will cease to accept point redemption with effect 16 Sep 2019.
Replacement of Main Identifier
Updated: 5 Sep 2019
In compliance with the Personal Data Protection Commission Singapore (PDPC)'s advisory guidelines on NRIC numbers issued on 31 August 2018, with effect from 1 March 2019, bossini will cease to collect, process or use the NRIC numbers of our members for identification purposes.
All members will use his/her mobile phone number as the main identifier for purchases in-store. Accounts with no valid identifier (mobile phone number or email address) registered with us will be deactivated after 31 March 2019.
This means that you will be unable to:
Access VIP portal

Earn B$

Redeem B$
You may update your particulars online under 'Update Your Particulars' once you have logged into the VIP portal with your registered email address. To update your mobile phone number, please follow the steps below: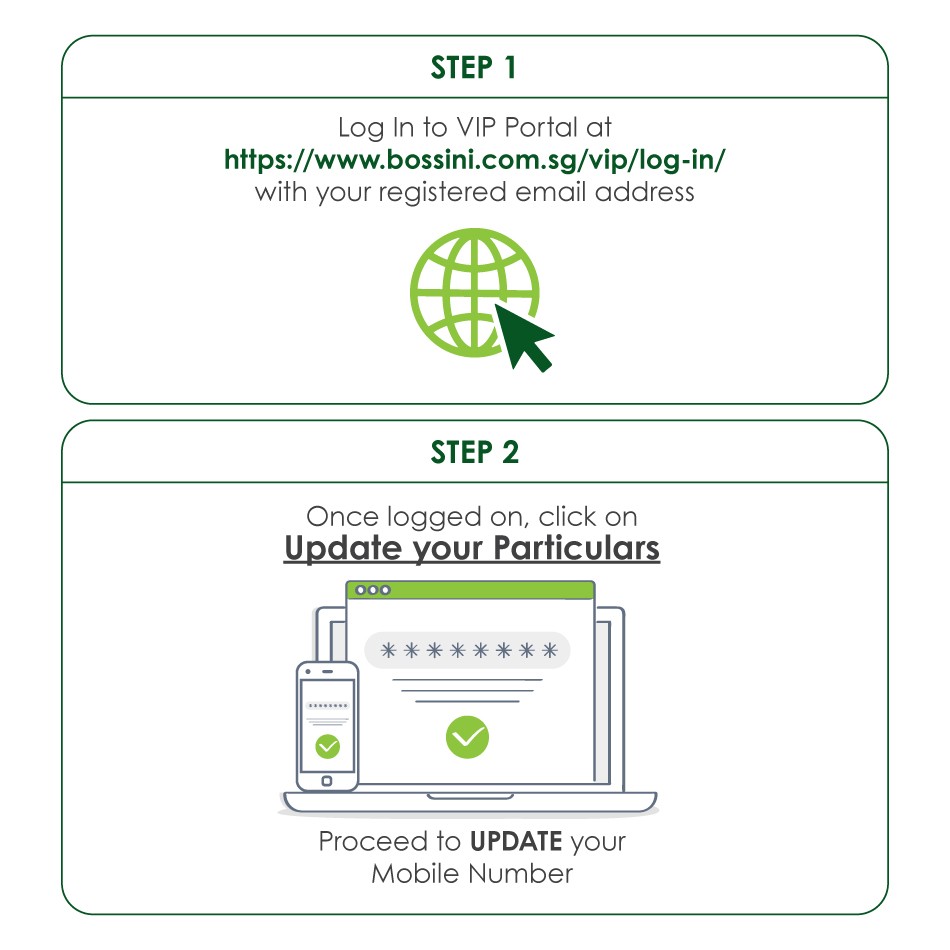 For further assistance, please contact

vipsupport@bossini.com.sg