>
>
Moshi Moshi Buddies Summer'21
Summer 2021
Moshi Moshi Buddies
There is a hero hidden in everyone! Find out which Moshi Moshi buddy you are with the new Summer 2021 collection. The capsule for kids features comfortable cotton T-shirts in fun prints and bold colours to bring out the hero in your little ones.
bossini's Moshi Moshi collection will be available at selected bossini stores*, for order via home delivery and online on Shopee Mall and eCapitaMall progressively from 14 July 2021.
*Available at all bossini stores excluding Bedok Mall, Changi City Point, Downtown East, Hougang Mall, Jewel Changi Airport and Toa Payoh. Prices stated are before discount. Information and offers are accurate at time of publish, subject to changes without prior notice. Member privileges are only applicable in-store/member discount not applicable with new launch offer. View our full store listing here.
INTRODUCING THE MOSHI MOSHI BUDDIES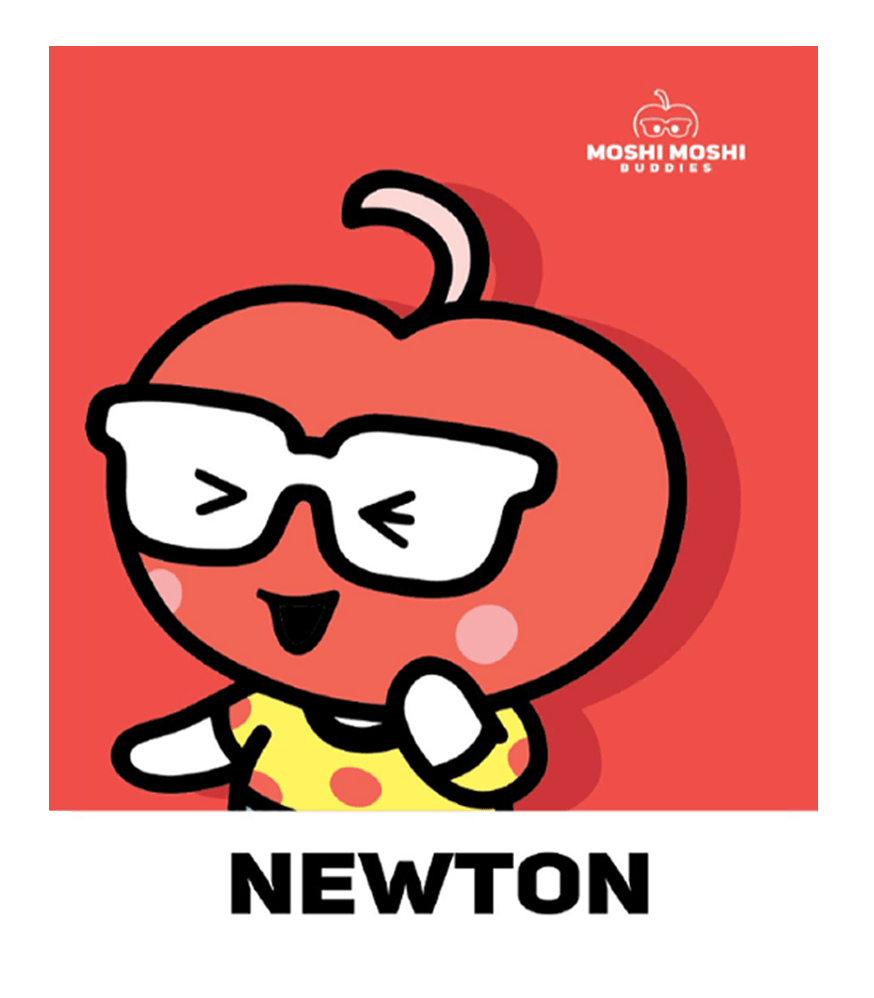 Born in the Big Apple City, Newton moved to Moshi Moshi town to pursue his dream as a magician. Wearing thick glasses makes him looks nerdy but this little apple is clever and funny. He always cracks a joke to cheer everyone up. Yet, not many people notice that he has a soft heart and lacks self-confidence. He can turn a little sentimental sometimes and when he does, his face will turn extremely red and eventually bursts into tears of "apple juice".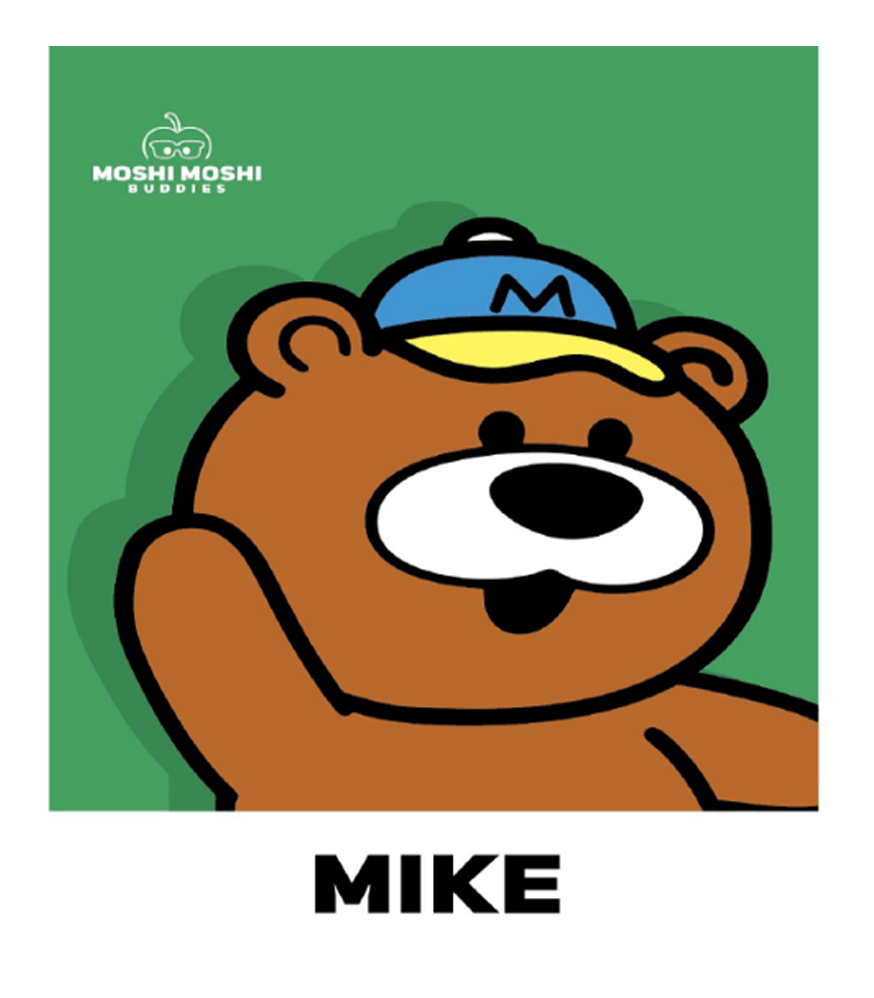 Mike is Newton's colleague as well as a good friend of his. Being a kind and compassionate bear, Mike always offers to lend his help to others. In contrast to his bigger built, he is extremely sensitive to the smallest detail. Whenever Newton feels upset or worried, Mike will give him a big bear hug to comfort him. Mike is also a typical foodie – he hides some honey lollipops in his cap. Shh, this is his top secret!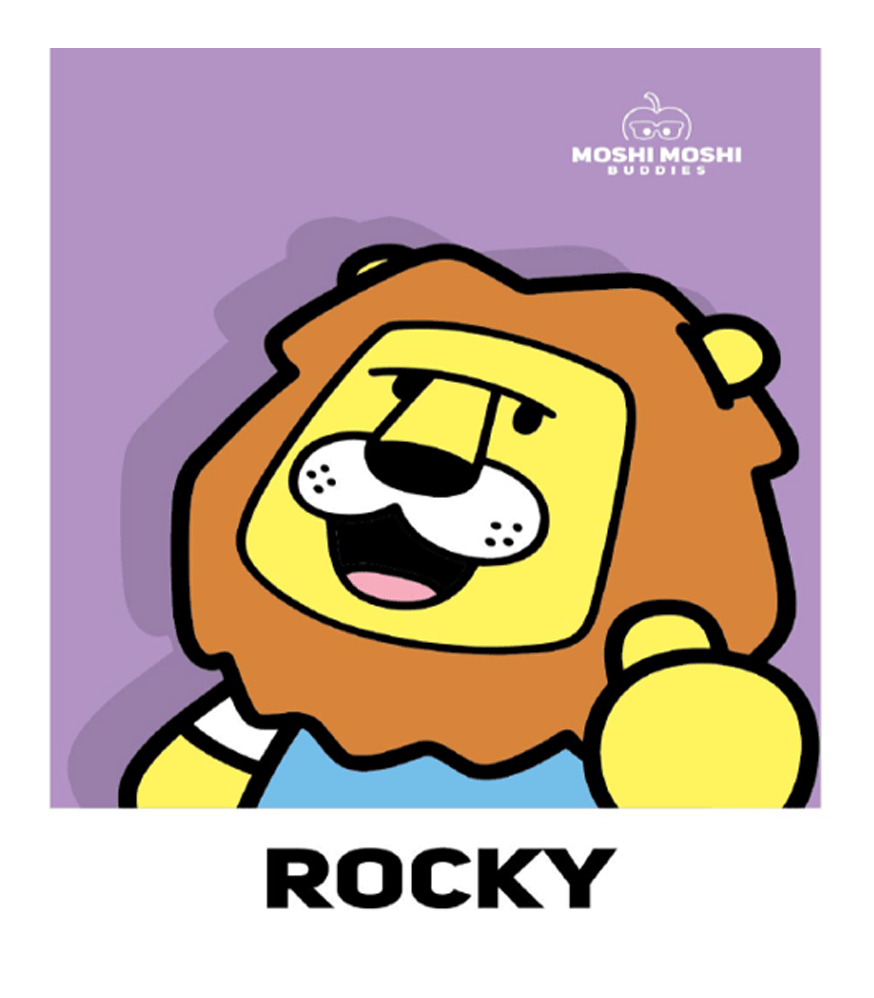 Rocky the lion loves singing though he is not very good at it. His voice is his secret "weapon" which can make people freeze for a while. Unlike other grumpy lions, Rocky always wears a big smile on his face. Whenever Rocky bursts into loud laughter, you can hear his special "roar" from a distance. Being the sunshine boy in town, Rocky is also a loving and dependable companion that often takes good care of others, including his best buddy and partner-in-crime, Ocean.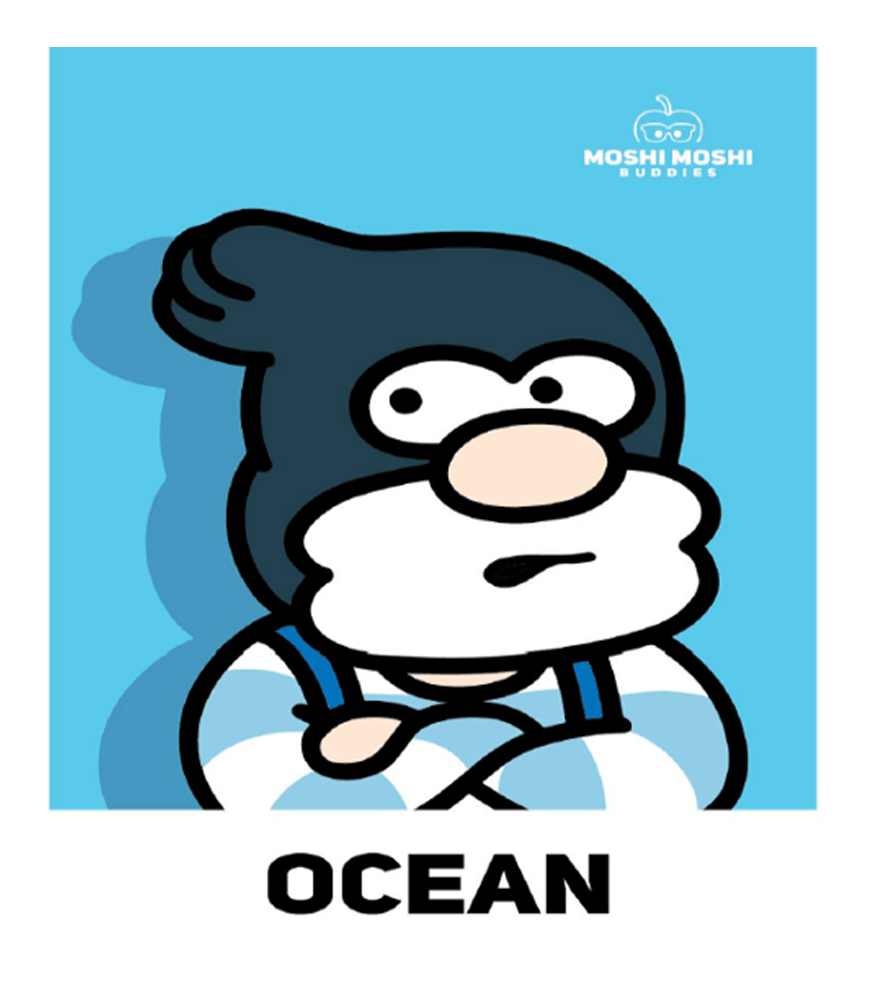 Ocean is new to Moshi Moshi town, ready to settle down after years on a vessel as a sailor. He seldom talks and seldom hangs out with others. Instead, he prefers spending quiet time alone every day looking out to the sea. He chose to come to Moshi Moshi as his childhood friend, Rocky, introduced him to this town. Ocean is so mysterious that he always disappears, because he knows how to become truly invisible by naked eyes. He can teleport at a quantum level if he concentrates. This superpower once earned him the popularity as a great magician.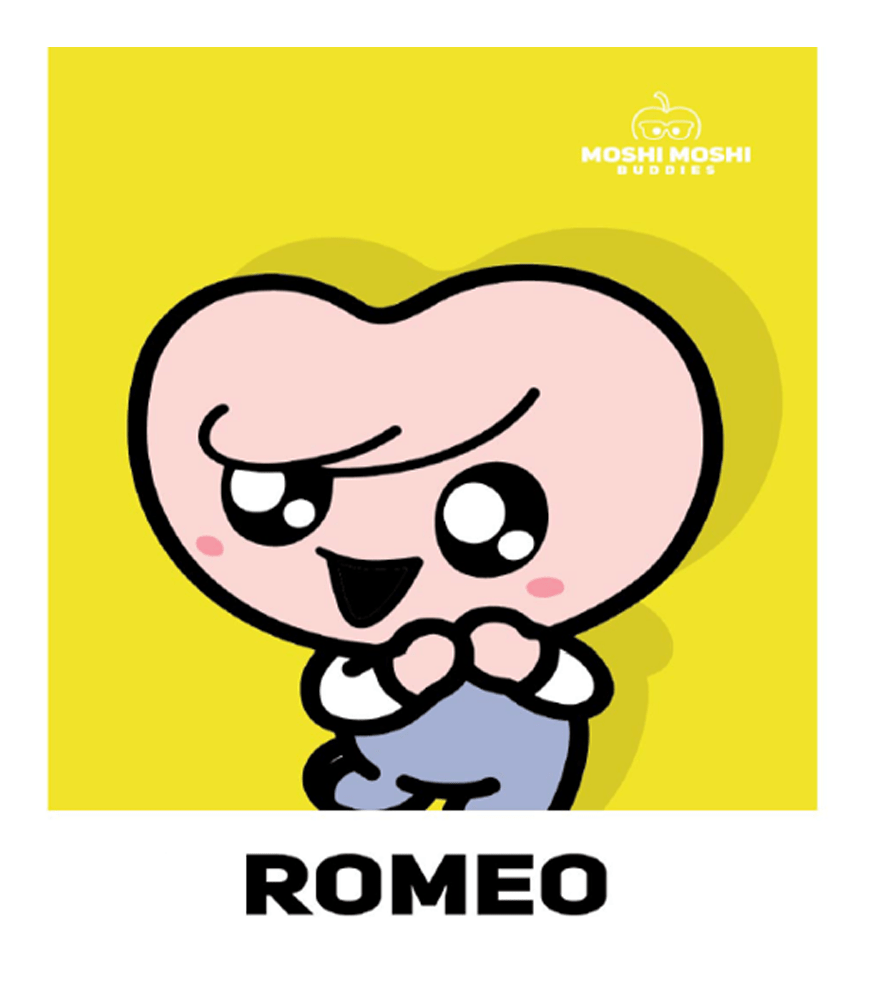 Romeo is a cutie-pie with a big heart! Though a heart throb, he has yet to meet his Miss Right. Romeo harbours a huge crush on Ribbon who has unfortunately "friend-zoned" him. Romeo is very conscious about his appearance and thus takes long to get dressed and hair fixed before he leaves home every day, so he is infamous for bad punctuality. Romeo has a hidden secret power: he can grow or shrink in size, but can only do so if he is kissed by his one true love.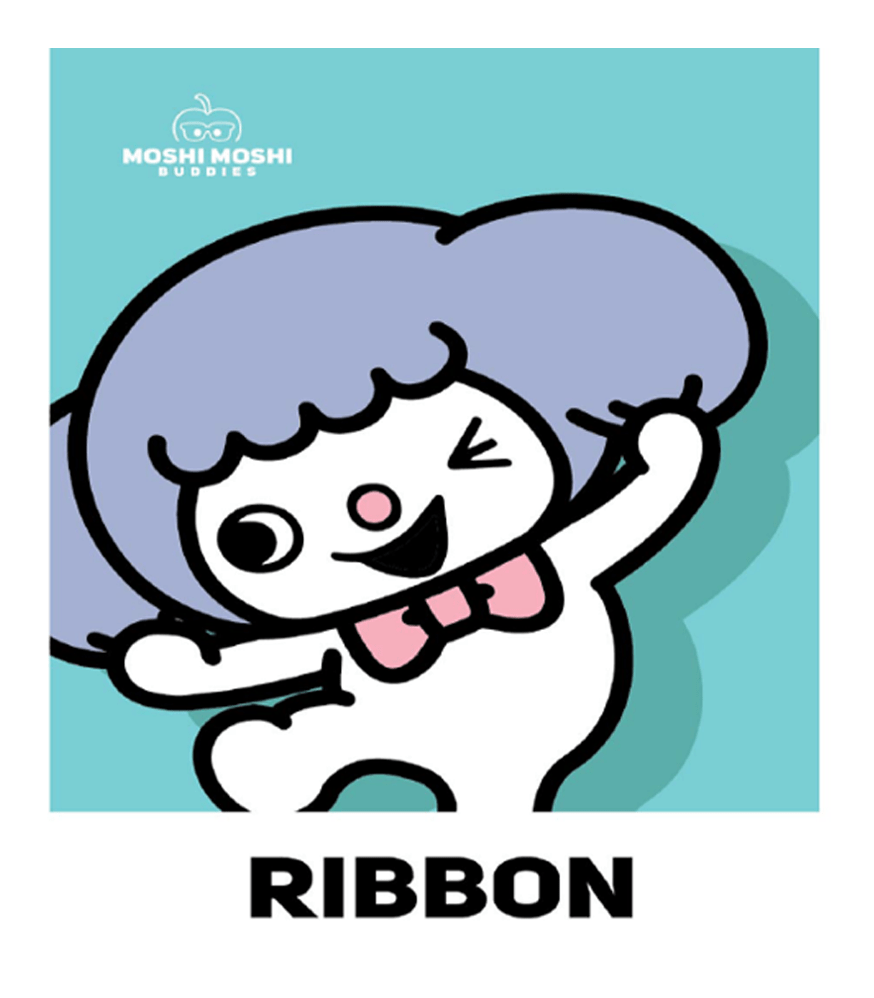 Ribbon is known for her huge ears that she always plays with. With her big ears, she can hear with amazing clarity and even frequencies outside normal range from a distance. She is curious, may sometimes too nosy as she eaves drop on private conversations. Despite that, Ribbon is a simple, easy-going girl who constantly spends her time day dreaming and coming up with tricks to play on Newton and tease him.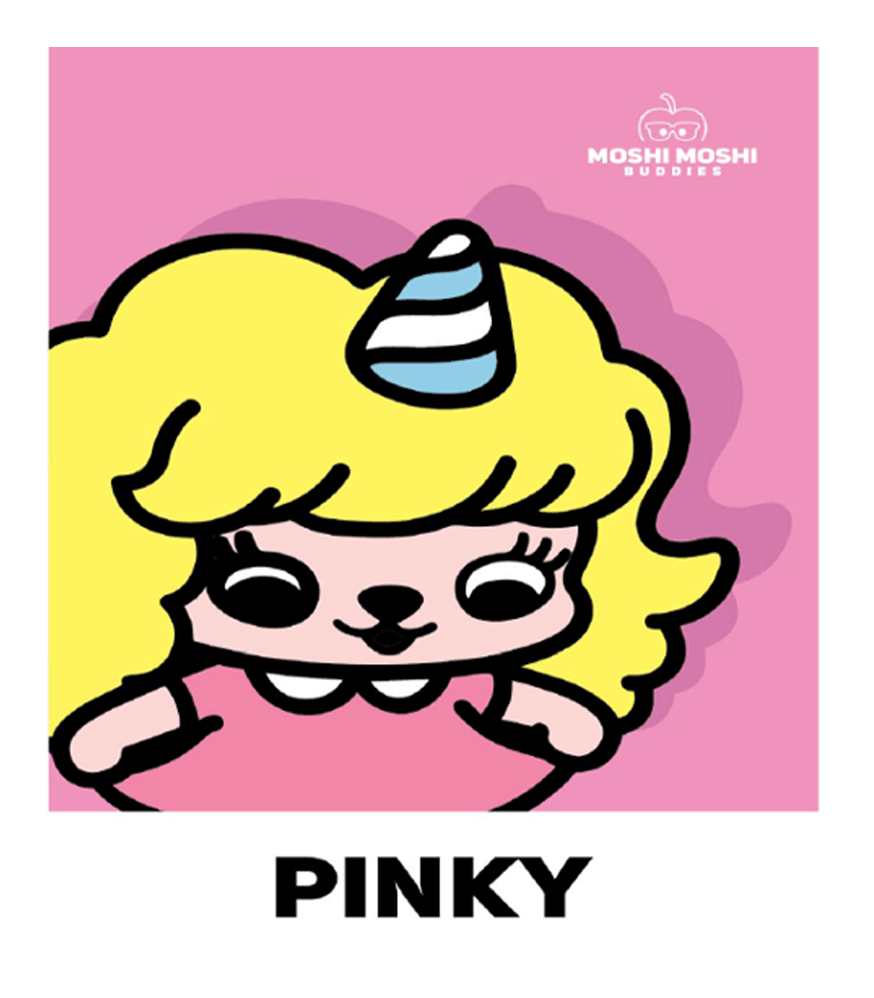 Pinky is a sweet unicorn fashionista, with fluffy blonde hair. She likes taking selfies with her good friend, Romeo, and loves spending extravagantly on brand-names. She is quite lazy and laid back at work and always asks Moo for help, which drives him nuts. However, never underestimate her ability! She can read minds with her horn.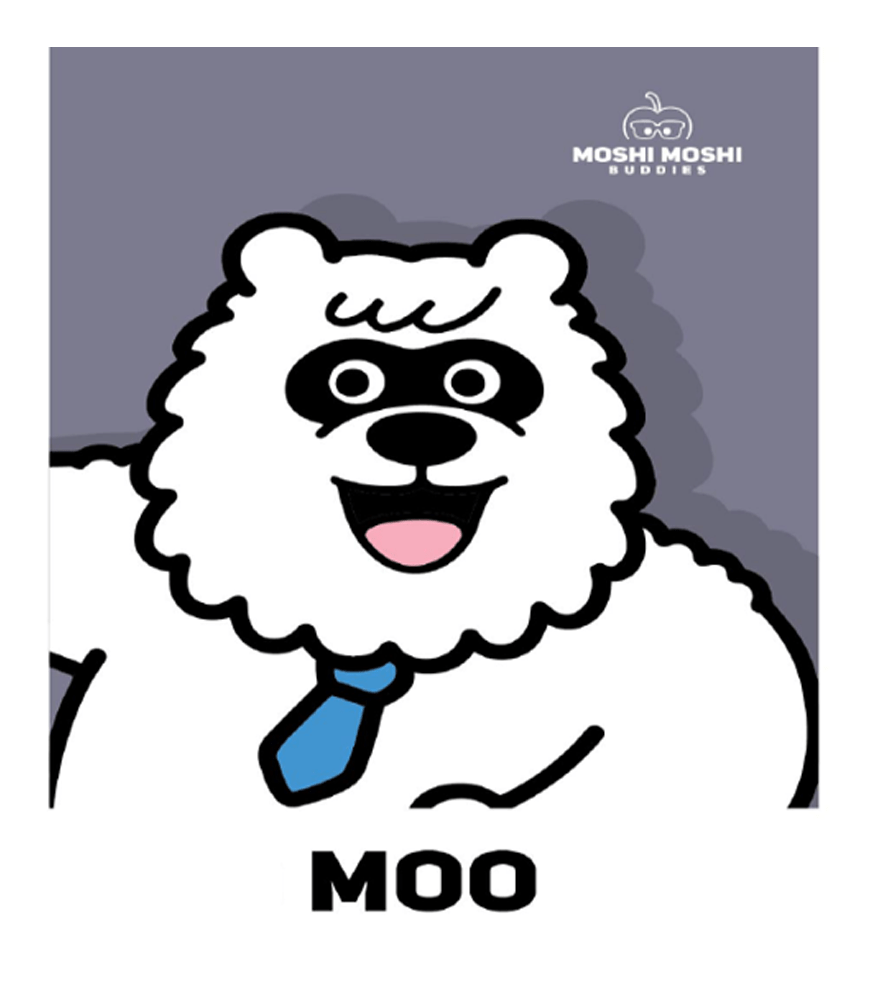 Moo is tough on the outside but soft on the inside. Initially, he may seem rather reticent and cold, but as you get to know him more over time, you will soon notice that he has a warm side too. The dark circles around his eyes make him look tired all the time and that is maybe why he is always mistaken as a panda, which irritates him most. However, these dark circles make his eyesight extraordinarily good, that he can see objects from miles away. He is Pinky's teammate at work and his petite tie is his signature office look.
GIRLS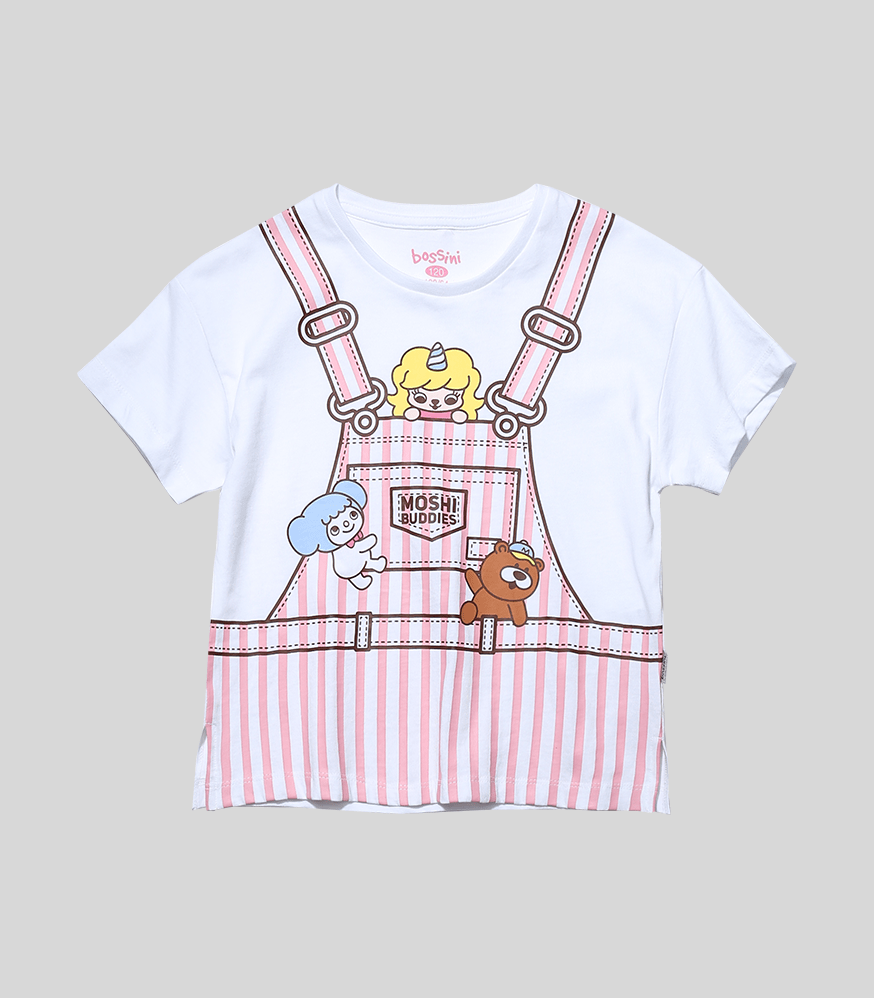 GIRLS



$19.90
Moshi Moshi Buddies Relaxed Fit Graphic T-Shirt
Product Code: 84-08300-90
Size Range: 100–160
Colour: Bleach White
Material: Cotton Jersey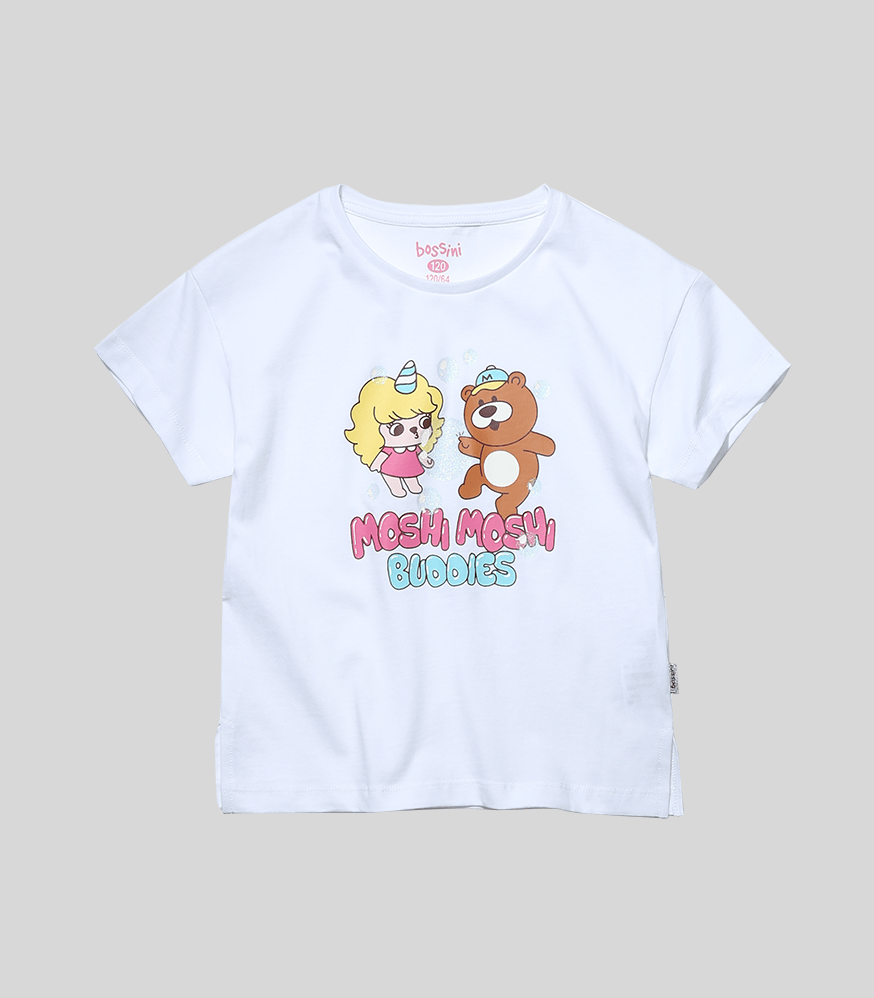 GIRLS



$19.90
Moshi Moshi Buddies Relaxed Fit Graphic T-Shirt
Product Code: 84-08310-50
Size Range: 100–160
Colour: Bleach White
Material: Cotton Jersey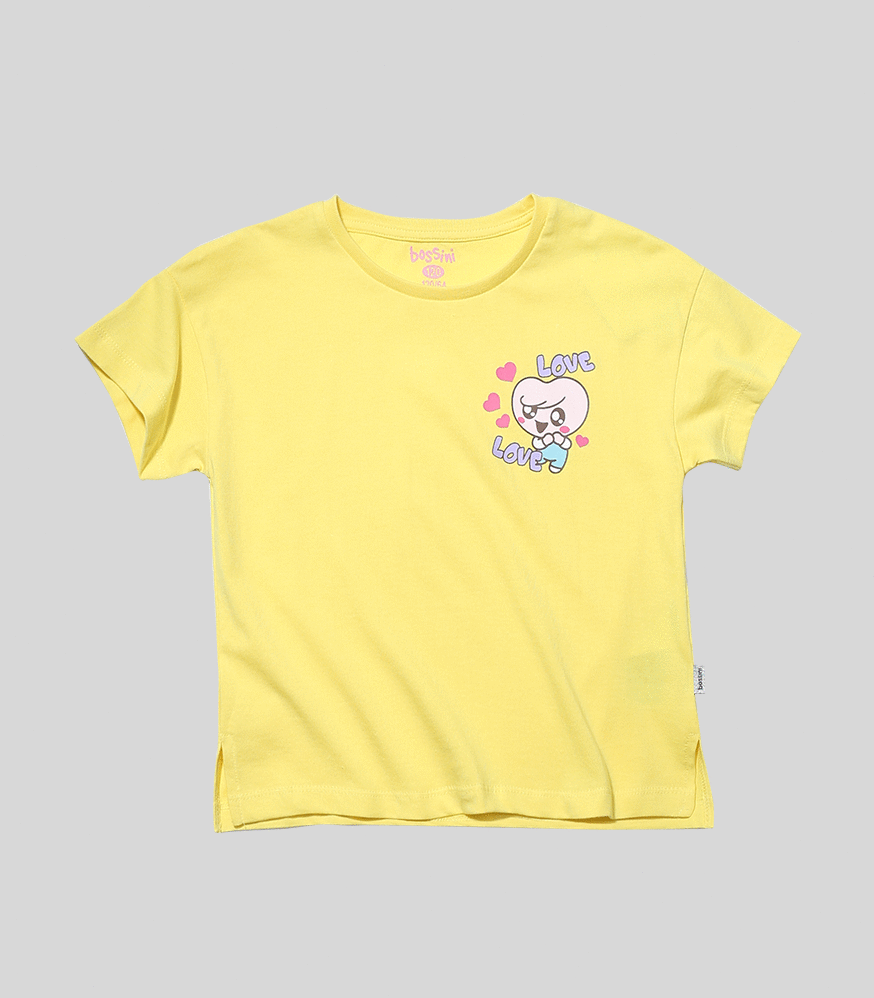 GIRLS



$19.90
Moshi Moshi Buddies Relaxed Fit Graphic T-Shirt
Product Code: 84-08320-10
Size Range: 100–160
Colour: Fresh Yellow/Bright Pink
Material: Cotton Jersey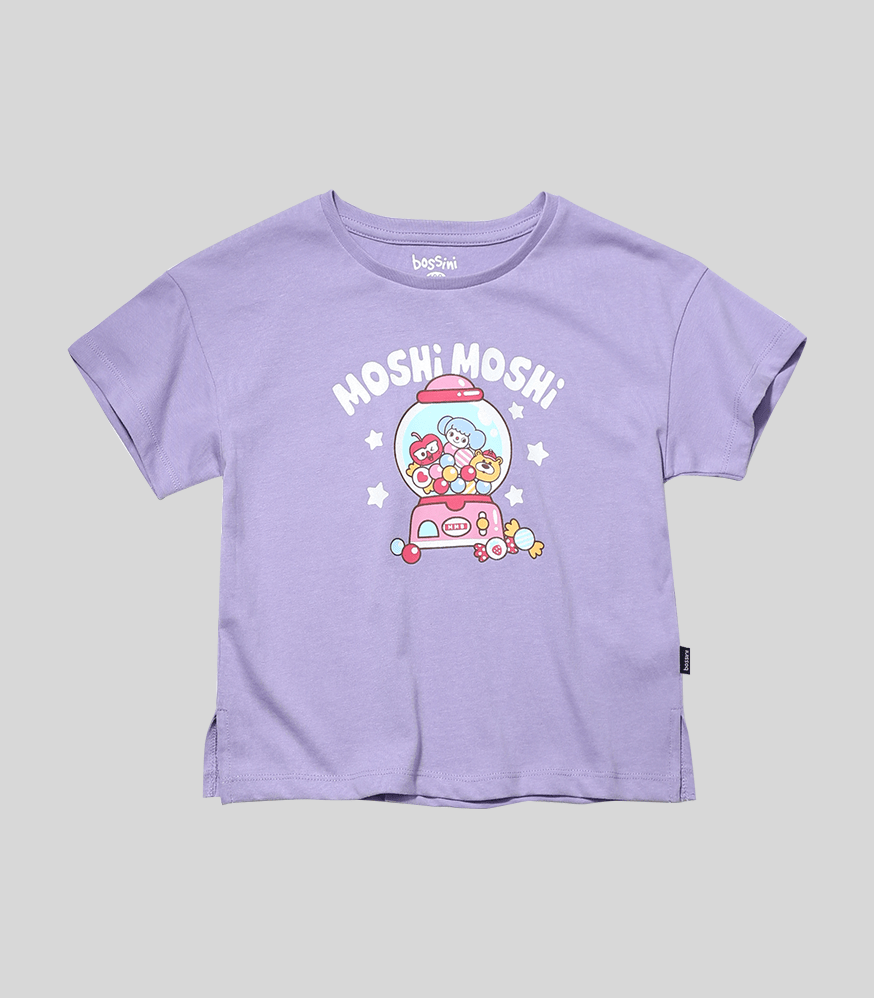 GIRLS



$19.90
Moshi Moshi Buddies Relaxed Fit Graphic T-Shirt
Product Code: 84-08330-80
Size Range: 100–160
Colour: Fresh Lilac
Material: Cotton Jersey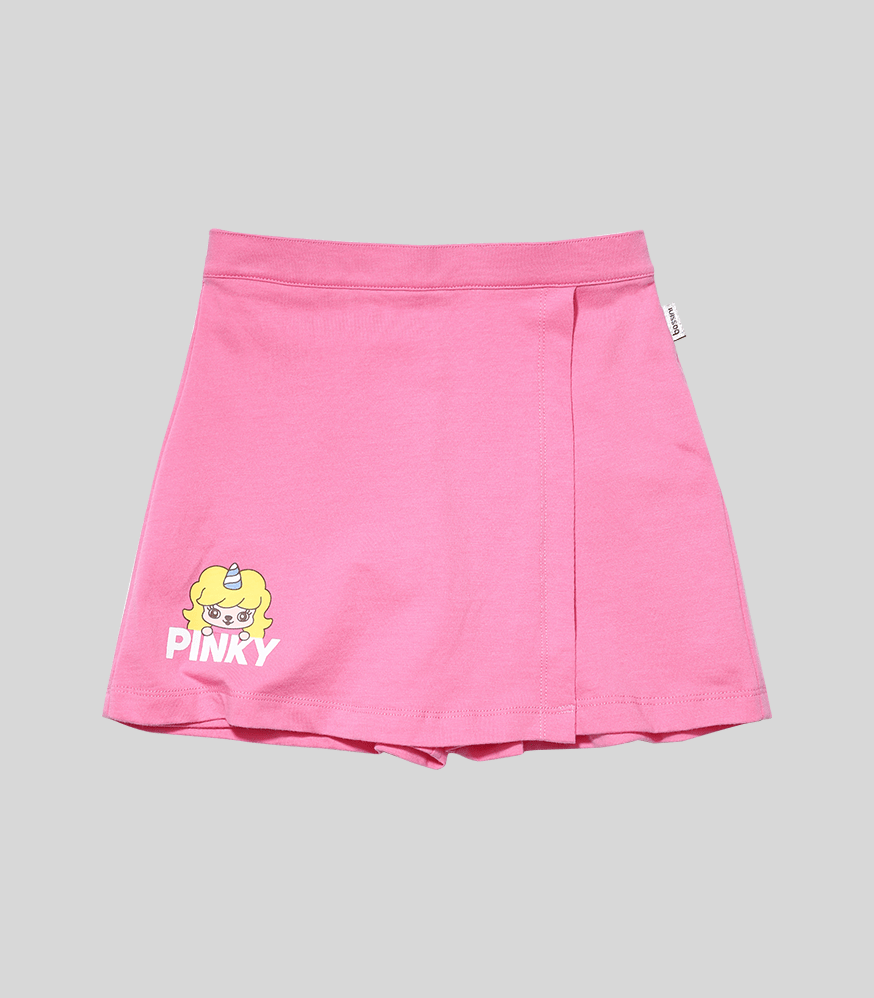 GIRLS



$29.90
Moshi Moshi Buddies Skorts
Product Code: 84-54060-00
Size Range: 100–160
Colour: Bright Pink
Material: Cotton Jersey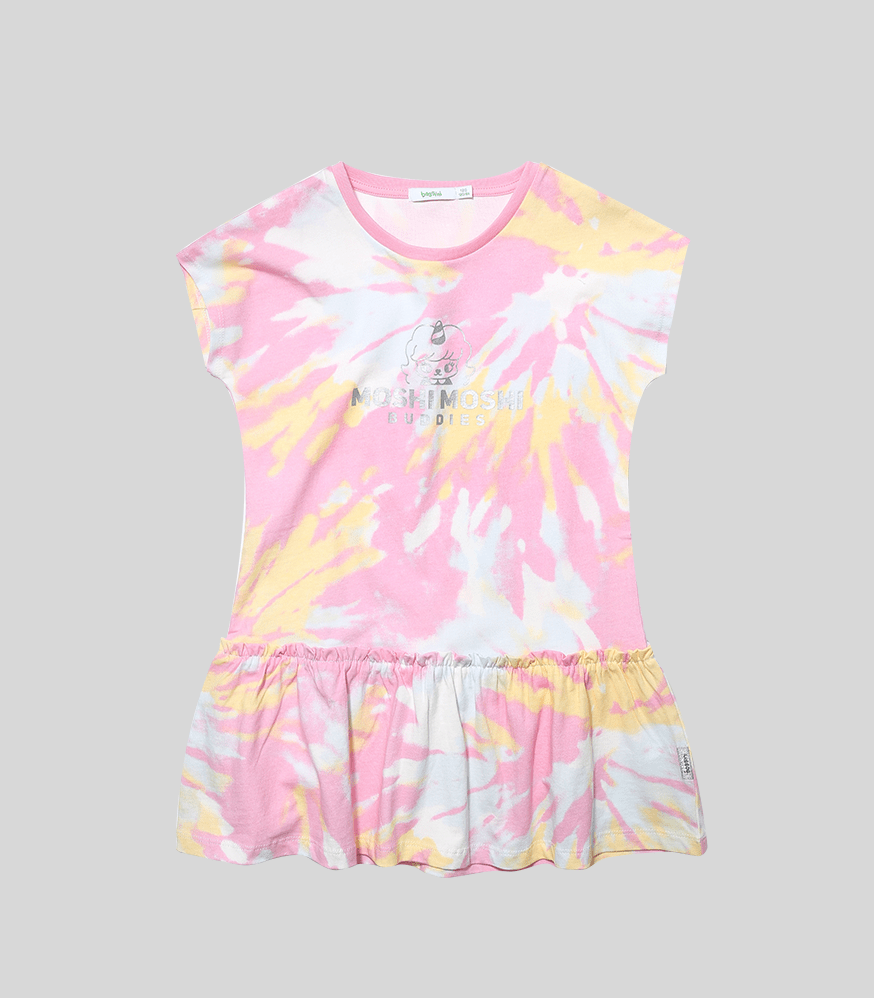 GIRLS



$26.90
Moshi Moshi Tie-Dye Dress
Product Code: 84-36160-80
Size Range: 100–160
Colour: Off White
Material: Cotton Jersey GIRLS



$26.90
Moshi Moshi All Over Print Leggings
Product Code: 84-65080-10
Size Range: 100–160
Colour: Heather Grey
Material: Fine Stretch Jersey
BOYS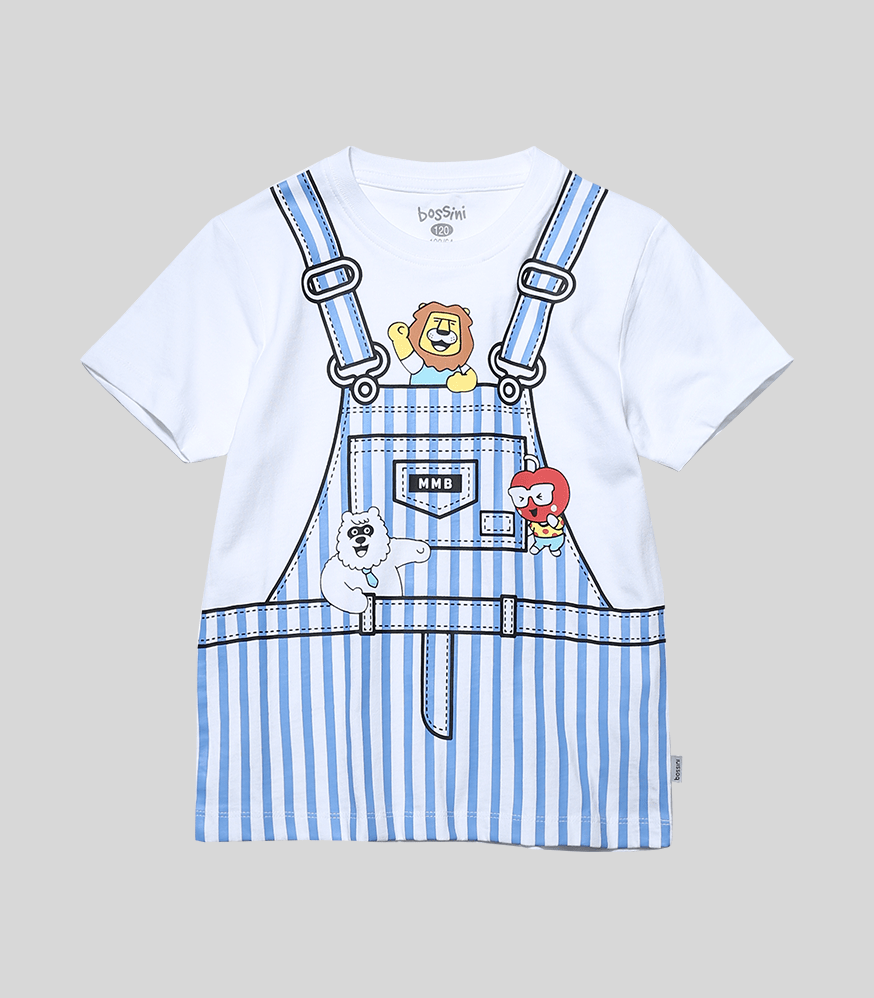 BOYS



$16.90
Moshi Moshi Graphic T-Shirt
Product Code: 83-08460-00
Size Range: 100–160
Colour: Bleach White
Material: Cotton Jersey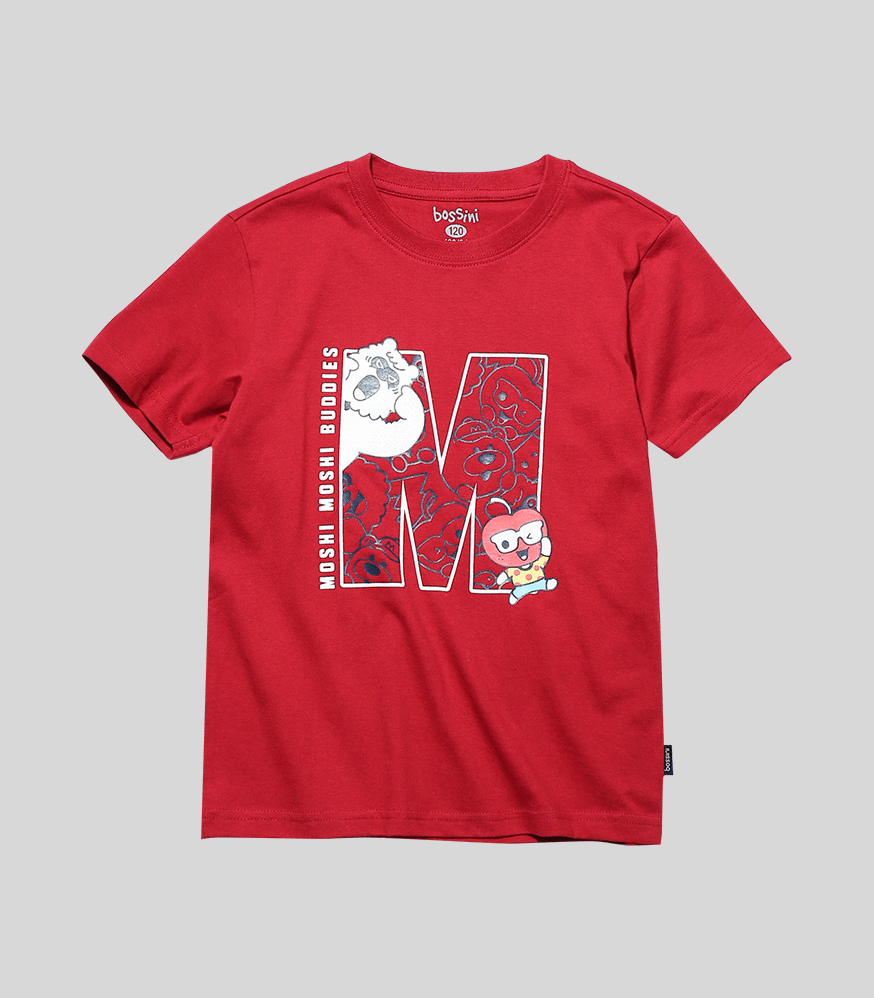 BOYS



$16.90
Moshi Moshi Graphic T-Shirt
Product Code: 83-08470-60
Size Range: 100–160
Colour: True Red/Heather Grey
Material: Cotton Jersey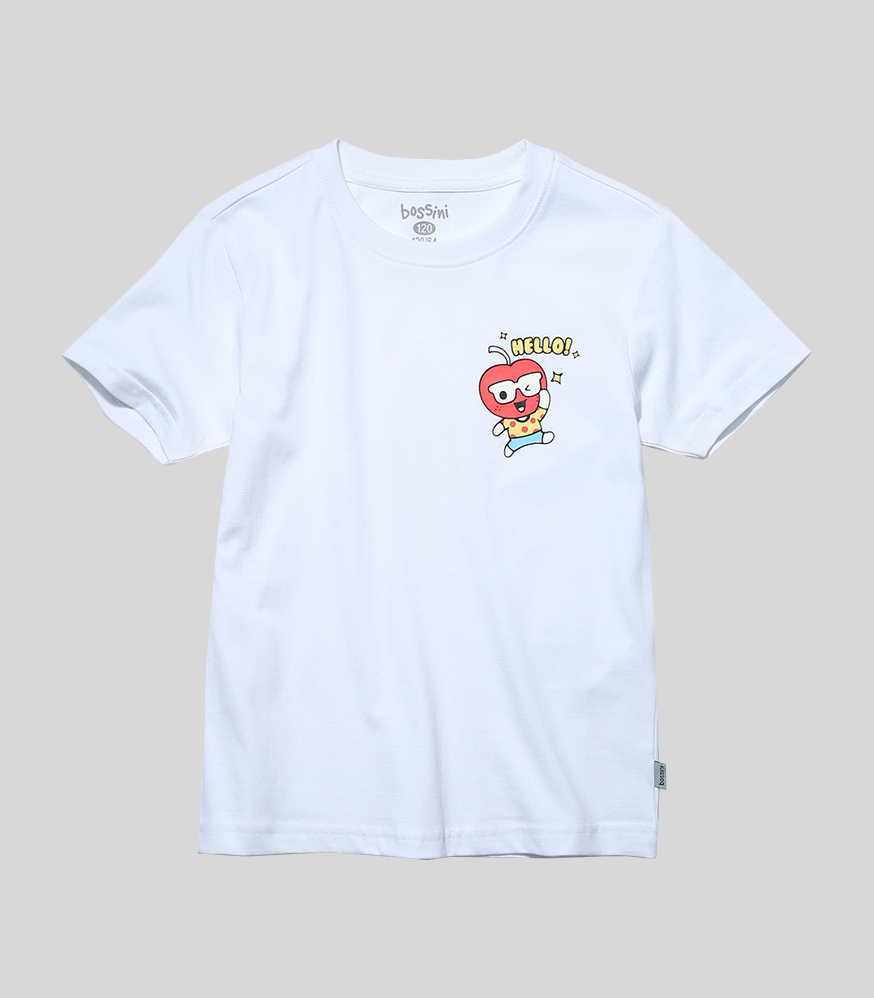 BOYS



$16.90
Moshi Moshi Graphic T-Shirt
Product Code: 83-08480-20
Size Range: 100–160
Colour: Bleach White/Banana/Copen Blue
Material: Cotton Jersey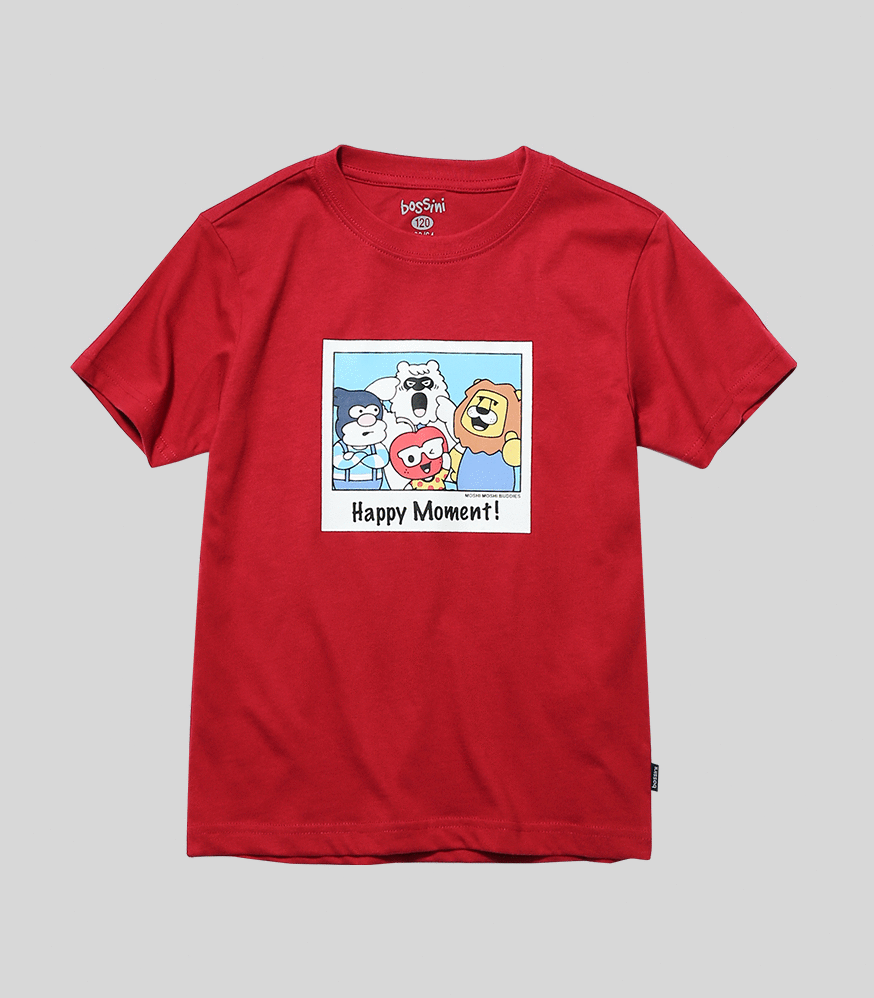 BOYS



$16.90
Moshi Moshi Graphic T-Shirt
Product Code: 83-08490-90
Size Range: 100–160
Colour: True Red/Dark Marine
Material: Cotton Jersey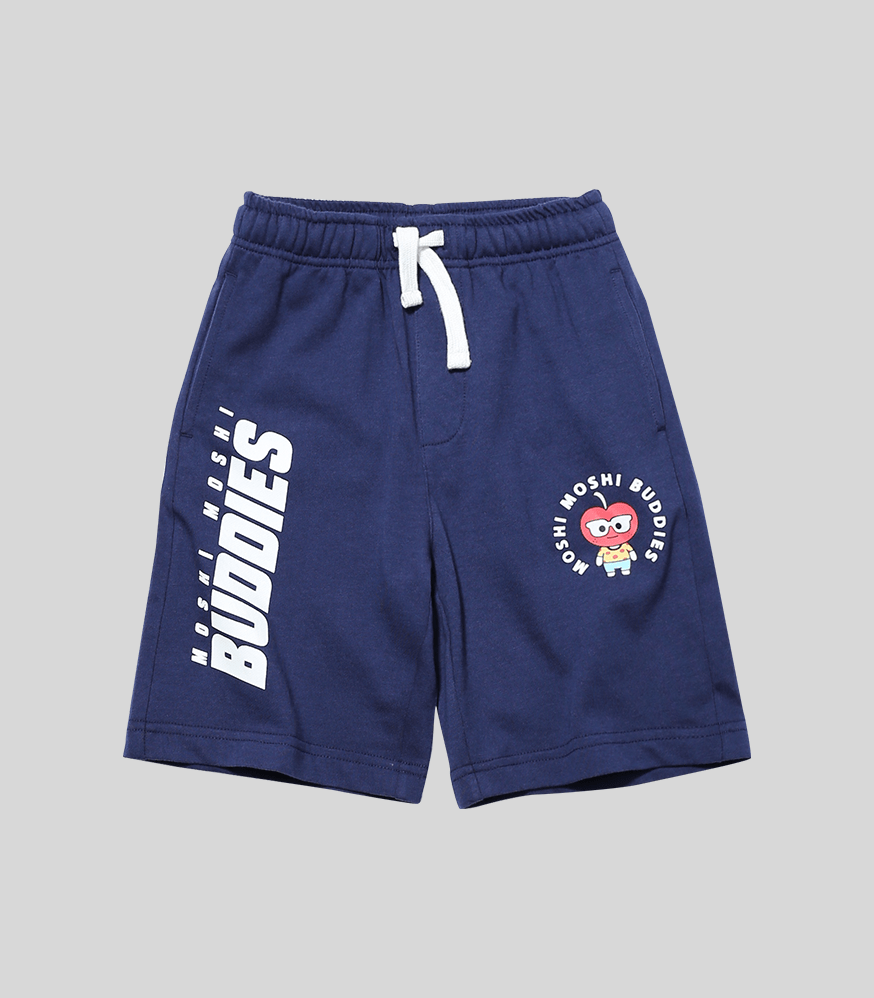 BOYS



$29.90
Moshi Moshi Knit Shorts
Product Code: 83-53100-00
Size Range: 100–160
Colour: Dark Marine
Material: Cotton Terry